STEEL BRAIDED BRAKE LINES CUSTOMIZATION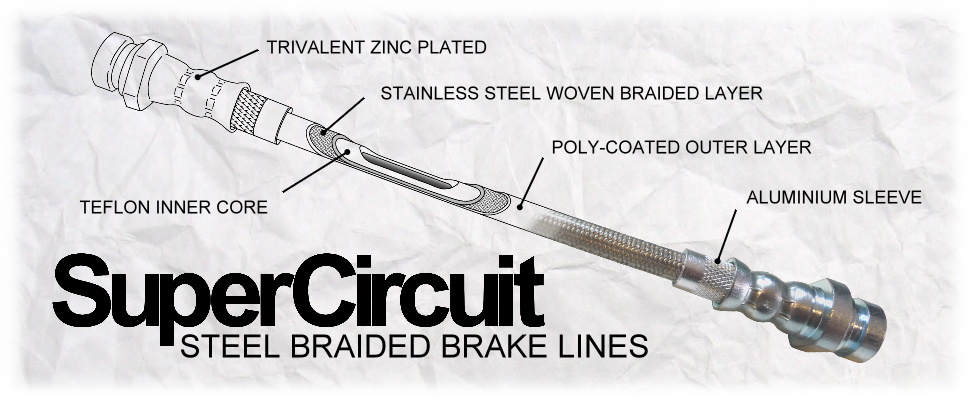 If you can't find the ready made off-the-shelf steel braided brake lines in our catalogue, they can always be customized to your needs. Custom made street legal steel braided brake hose is available at SUPERCIRCUIT.
All steel braided brake hoses and components are engineered in the USA and fully compliant to the SAE J1401 and FMVSS106 requirements, even exceeds D.O.T. standards.








TRIVALENT ZINC PLATED FITTINGS

INTERNATIONAL STANDARD COMPLIANT

1/8" I.D. TEFLON EXTRUSION CORE, STAINLESS STEEL BRAIDED & POLY-COATED OUTER LAYER


For better corrosion resistance and

Every piece of brake hose is tested

to 3000psi to meet the SAE, FMVSS and DOT standards.

High strenght materials to prevent expansion under extreme pressure, incidental impact or compression.
Every custom made brake hose is 100% tested to 3,000psi and comes with LIFETIME WARRANTY* too!
For more images and information, please 'LIKE' SUPERCIRCUIT Steel Braided Brake Lines FACEBOOK or BLOG.
* T&C applies.